[adinserter block="1"]
The video of a quite young man publicly displaying affection for his much older white lover has had netizens talking on social media.
While the interracial feature in their relationship is one to talk about, the obvious age gap between the both of them is what has netizens' tongues wagging even more.
The young man is seen in the video recording his lover who seems a bit shy as she tries to cover her face with her palms but goes on to plant a kiss on him. Their video has gone since viral online and netizens have had a thing or two to say about it.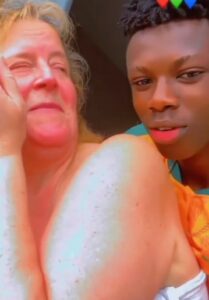 Watch the video as you scroll and read some reactions,